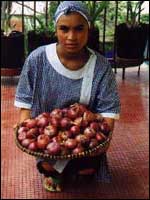 In ICS' working areas, the natural growing conditions are often extreme. Therefore, sowing high quality seeds is essential to lead to profitable crop productions, adapted to local and international markets (fresh, storage and processing onions). In order to provide its customers with suitable seeds, ICS has developed its own registered trade mark: Terradonis®.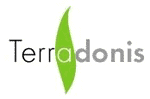 ICS' registered trade mark
for high quality seeds
Terradonis® onion seeds

short day : red onions Red Star, Red Creole, Violet de Galmi, yellow varieties Firaz, Sonia and white variety White Grano

intermediate day : yellow variety Casino, with good keeping properties, red variety Amposta Red (also considered as long day in some areas).

long day : Amposta Red and Red Tiger varieties, yellow onions Cesar, Valencia late, Esperance..., white variety Bianco Duro.
Terradonis® seeds complete our wide range of varieties, provided by reliable firms such as Nunhems, and presented below.
The illustration on the label represents the kind only. Variety may differ from the illustration in color, shape and size.
Click on each illustration for details!
(They will be displayed on the right hand side of the screen)